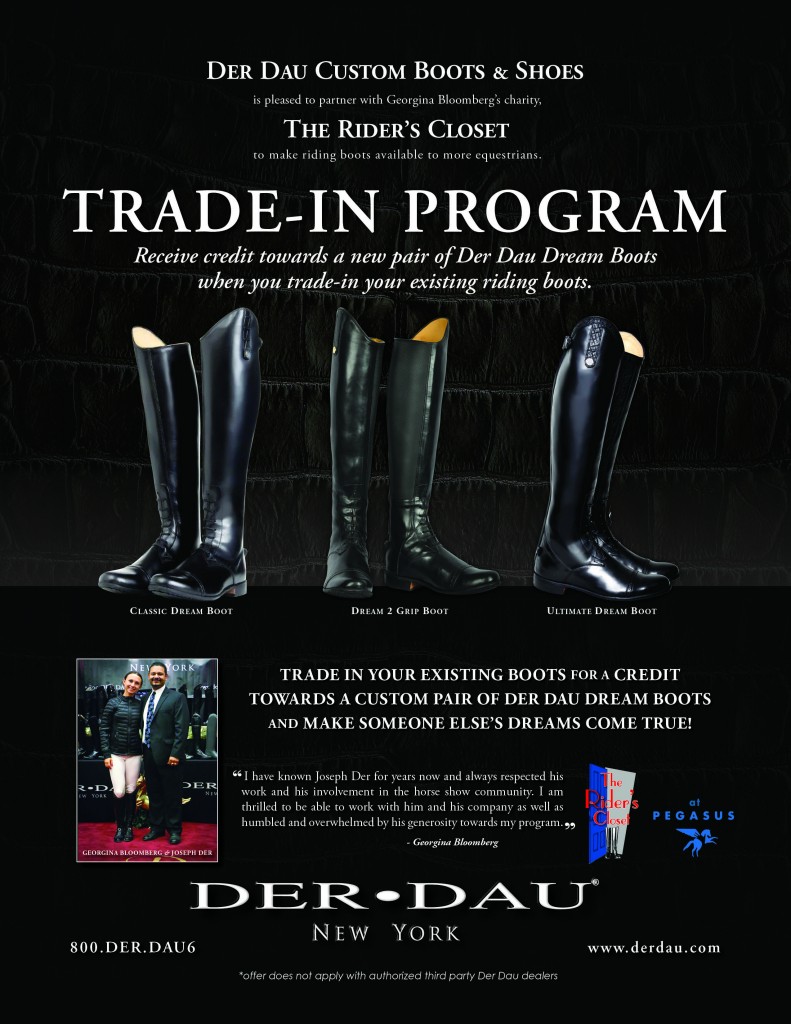 Two of New York's iconic equestrian figures, Georgina Bloomberg and Joseph Der, Jr., have combined efforts to provide high quality riding boots to equestrians in need. Der Dau Custom Riding Boots has initiated a program to accept trade-ins of existing riding boots in exchange for a credit applied towards a future order of the company's exclusive Dream Boots. Each used pair will then be refurbished as needed by Der Dau's expert craftsman and donated to The Rider's Closet.
Georgina Bloomberg explains, "I started the Rider's Closet 8 years ago to be able to help riders afford the proper equipment and clothing for this sport. I have hopefully made a difference in many rider's lives and made it easier for them to pursue their riding, whether they do it for pleasure or have the opportunity to compete. I have known Joseph Der for years now and always respected his work and his involvement in the horse show community. I am thrilled to be able to work with him and his company as well as humbled and overwhelmed by his generosity towards my program."
Der Dau accepts all brands of boots that are in acceptable working condition. To determine the value of your trade-in, bring your boots in to one of Der Dau's booths/showrooms, excluding third party dealers, at equestrian events across the US and Europe.
For more information, please email salesrep@derdau.com or call 1-800-DerDau6.